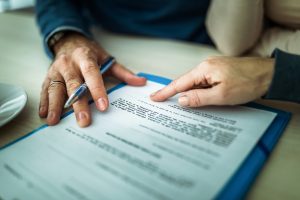 When parties to a Texas divorce agree to a property division, the final judgment based on the agreement must strictly comply with it.  The trial court cannot add, change, or leave out material terms.  A final judgment based on a property division agreement  must be set aside if it is not in strict compliance with the agreement, unless the discrepancy is a clerical error.  An appeals court may modify a judgment to correct a clerical error.  A former husband recently challenged the property division in his divorce due to a number of alleged discrepancies.
Husband and Wife Submitted Proposed Property Division
According to the appeals court's opinion, the parties agreed to a proposed property division, identified as "Exhibit A." The wife testified the division was fair and just. She agreed to split funds in the husband's IRA equally after he was credited $90,000 as separate property and to split the funds in his "Edge" and "Smart" retirement plans equally.
The husband initially disagreed with the property division in Exhibit A, but later asked the court to approve it. The trial court admitted the document into evidence, asked the parties to draft and sign an agreed final decree.