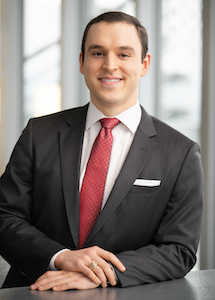 Spencer Page
Attorney
Spencer Page is an Attorney at McClure Law Group. As a child of divorce himself, Spencer empathizes with his clients and understands the strains divorce can place upon a family. Knowing firsthand that all separations are unique, he analyzes every case from his clients' perspectives so he can tailor his advice to each specific situation. Spencer believes clients should not only feel that they are ardently represented, but that they are sincerely cared for as well.
A local to the DFW area, Spencer was born and raised in Dallas. He attended John Paul II High School in Plano and earned his bachelor's degree in History from Texas A&M University in 2015. While in college, Spencer spent his summers as a law clerk for a family law firm in Collin County, which first ignited his passion for family law.
After graduation, Spencer continued his education at Southern Methodist University's Dedman School of Law, where he spent time as both a student attorney and Chief of the SMU Vansickle Family Law Clinic on campus. Under the command of the clinic's supervisory attorney, Spencer acquired a provisional bar license and began honing his legal skills prior to graduation. He spent Fridays providing legal advice to indigent clients at the George Allen Courthouse in Dallas County through the Clinic's Self-Help Desk program, and additionally handled family law matters as a law clerk for two different law firms during this time. All of these opportunities have given Spencer the necessary knowledge and experience to practice family law at a high level.
At McClure Law Group, Spencer has handled numerous child custody and modification cases both within Texas and across state lines. He has tirelessly assisted clients facing complex jurisdictional disputes involving custody determinations across state lines, as well as helped secure supervised possession, child support, and a paternity adjudication for a client battling a co-parent suffering from drug and alcohol dependency issues.
In his free time, Spencer lives an active lifestyle and enjoys hiking and backpacking with his friends. He takes a trip to Big Bend National Park in West Texas every year and hopes to hike through the volcanic landscape of Iceland sometime in the future.
Education
J.D., Southern Methodist University Dedman School of Law, 2018
Chief Student Attorney of the SMU Family Law Clinic
B.A., History, Texas A&M University, 2015
Professional & Bar Association Memberships
State Bar of Texas
Texas Bar College