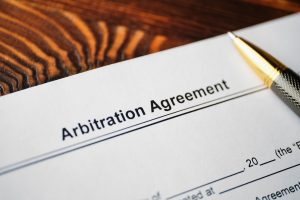 When a couple enters into a Texas pre-marital agreement or post-marital agreement, they may include an arbitration provision in the agreement. Arbitration can be a cost-effective way to resolve disputes, but an arbitration decision often cannot be appealed. In a recent case, a wife appealed a final divorce decree confirming an arbitration award, arguing the arbitrator exceeded her authority.
Husband and Wife Enter into Post-Nuptial Agreement During Marriage
During the marriage, the parties signed an agreement to make "what would otherwise be community property instead be separate property." The agreement included an arbitration provision.
When the agreement was executed, the husband was president of a company and the wife was vice president. The agreement stated that the parties agreed each of them would "be guaranteed to receive equal pay and bonuses as both President and Vice President. . ."