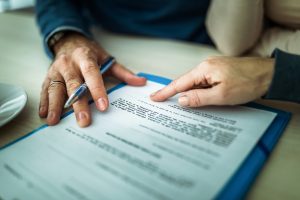 A custody determination issued in another state or country can be registered in Texas.  To do so, the party must send a letter requesting registration to the Texas court, along with two copies of the determination, one of them certified, a sworn statement that, to the best of the requester's knowledge and belief, the order has not been modified, and their name and address and the name and address of any parent or person acting as a parent who has been awarded custody or visitation under the order.  Tex. Fam. Code § 152.305(a). The Texas court then files the determination as a foreign judgment. The court must also give notice to the person seeking the registration and any parent or person acting as a parent who was awarded custody or visitation in the determination and provide them with an opportunity to contest the registration. If a person wants to contest the validity of the registered order, they must request a hearing within 20 days of being served the notice.  The court must confirm the registered order unless the person contesting it establishes that the issuing court did not have jurisdiction, that the determination was vacated, stayed, or modified, or that they did not receive required notice in the proceedings before the court that issued the order. Tex. Fam. Code § 152.305.
Mother's Request for Registration of Custody Determination Denied
A mother recently challenged a court's denial of her request for registration.  She had filed a "Registration of Child Custody Determination" to register an order from New York. The New York order provided that the parties would share joint custody of the child and that the child would live with the mother.
The father filed a timely objection to the registration. He argued there were proceedings for enforcement pending in New York.  He alleged that the New York court had recessed to let the mother get an attorney and rescheduled on the same day the wife sought to register the order in Texas.  He argued that registering the decree in Texas would make it enforceable and subject to modification in Texas, while the New York court still had and was exercising continuing jurisdiction.