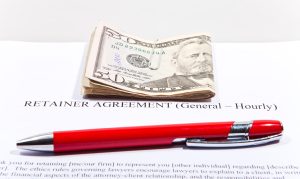 A couple may choose to enter into a Texas pre-marital agreement to protect their respective assets in the event of a divorce.  A pre-martial agreement allows the parties to agree on use, control, and transfer of property, characterization of property or income, disposition of property in a divorce, and a number of other issues.  In some cases, pre-marital agreements may lead to results that the parties did not consider.
Parties Signed Premarital Agreement
In a recent case, a husband challenged an award of attorney's fees to the wife because their pre-marital agreement provided for property to remain separate.  According to the appeals court's opinion, the parties signed the pre-marital agreement which provided that their pre-marital separate property and property acquired during the marriage would stay separate.  They married in 2016 and had a child the next year.
When the wife petitioned for divorce in 2018, she requested attorney's fees.  She indicated she sought fees "[t]o effect an equitable division of the estate" and for the services she provided related to support and conservatorship of the child.  The trial court entered a final divorce decree in November 2019.  The husband was ordered to pay $14,900 in attorney's fees, with $10,000 of that being paid directly to the wife's attorney.
Husband Appeals Award of Attorney's Fees
The husband appealed, arguing the trial court abused its discretion by awarding the wife attorney's fees.  He argued the pre-marital agreement provided that property remained separate so there was not any community property for the court to divide or from which to pay attorney's fees.
The appeals court acknowledged the husband's argument was supported by older case law.  Prior to 2013, there was no statutory authority allowing a court to award attorney's fees in a divorce action.  Trial courts could only award fees through their equitable powers to make a just and right property division. Thus, case law held that a court did not have authority to award attorney's fees when there was no community property to be divided.
The legislature changed the law in 2013, however.  Tex. Fam. Code § 6.708(c) now allows a court to award reasonable attorney's fees and expenses in a divorce case.  The statute allows the court to order payment of fees, costs, and post-judgment interest directly to the attorney.  The statute does not require the court to consider the value of the community estate.
The appeals court therefore held that a trial court may award attorney's fees even if there is no community estate.  The appeals court found no abuse of discretion by the trial court and affirmed the judgment.
Attorney's Fees Can be Awarded Even Where no Community Estate Exists – Call McClure Law Group Today
This case makes clear that a court may award reasonable attorney's fees in a divorce case regardless of the value of the community estate.  Even if a pre-marital agreement provides for no community property, it will not necessarily protect a party from paying attorney's fees.  Parties concerned about payment of attorney's fees should talk to a skilled Texas pre-marital agreement attorney about expressly addressing them in the prenuptial agreement.  Call McClure Law Group at 214.692.8200 to schedule a consultation to discuss your situation and  the possibility of prenuptial agreement.