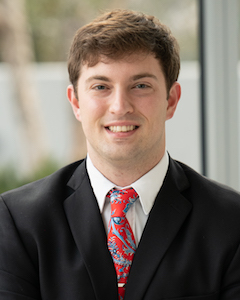 Harlan Burk
Legal Secretary
Harlan is a Legal Secretary for the McClure Law Group.
Born and raised here in Dallas, Harlan graduated from St. Mark's School of Texas. In high school, Harlan played multiple sports, including football, wrestling, and soccer.
Harlan earned his Bachelor of Science degree in International Economics from Texas Tech University. While earning his degree, Harlan studied abroad in Sevilla, Spain, where he learned Spanish, watched a bullfight in the famous La Maestranza bullring, and enjoyed the finest meats, cheese, and wine the country had to offer. Harlan most recently traveled to Israel, where he floated in the Dead Sea, prayed at the Western Wall, and ate falafel in Jerusalem.
In his free time, Harlan enjoys traveling and camping with his friends in the Western United States. His favorite places to camp are Grand Teton and Redwood National Parks.
Education
B.S., in International Economics from Texas Tech University