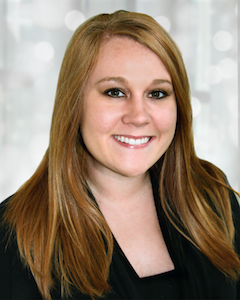 Kelsey Miller
Office Manager
Kelsey Miller serves McClure Law Group as the Office Manager
An indispensable team member for more than seven years, Kelsey has a wealth of knowledge, from her remarkable memory of client facts, to details of every case, and all other operational tasks that keeps a busy family law firm on track. In addition to managing the office, Kelsey assists with billing, scheduling, research, digital communications, and orienting interns. She regularly assists McClure Law Group's partners, attorneys, and paralegals with preparation for hearings and trials.
A Mesquite, Texas native, Kelsey followed in the footsteps of her paralegal mom – literally – by spending many of her high school afternoons assisting in a family law firm. Kelsey graduated from Poteet High School in Mesquite, and attended Ouachita Baptist University in Arkansas.
An optimist by nature, Kelsey is always up for a challenge … except when it comes to heights. While not in the office, Kelsey loves baking and spending time with her daughter, wonderful husband, and dog Barkley.