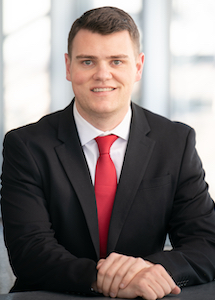 Garrett Rogers
Attorney
Garrett Rogers is an attorney at McClure Law Group.
Born and raised in Plano, Texas, Garrett attended Plano Senior High School followed by Southern Methodist University where he graduated as a double major in Political Science and Public Policy. Garrett went on to attend Wake Forest University School Of Law in Winston-Salem, North Carolina where he was a staff member of the Wake Forest Journal Of Business and Intellectual Property Law his second and third year. He also worked as a research assistant n the law school library assisting several professors with their various research needs beginning the summer of his first year and continuing until he graduated. Becoming proficient at research has served Garrett well during his legal career as he is quickly able to research novel issues in the law.
Prior to working at McClure Law Group, Garrett represented over 60 clients in their claims for federal workers compensation. Dealing with a high volume of clients daily, Garrett knows how to make a personal connection with each client and assure them that they are getting the best representation. Clients are able to trust that Garrett is going above and beyond in his representation.
In his free time, Garrett loves to travel and watch sports on the weekend. As a soccer enthusiast, he hopes to one day travel to England to watch a game and attend a world cup match.
Education
J.D., Wake Forest University School of Law, 2018
B.S., Political Science and Public Policy, Southern Methodist University, 2015